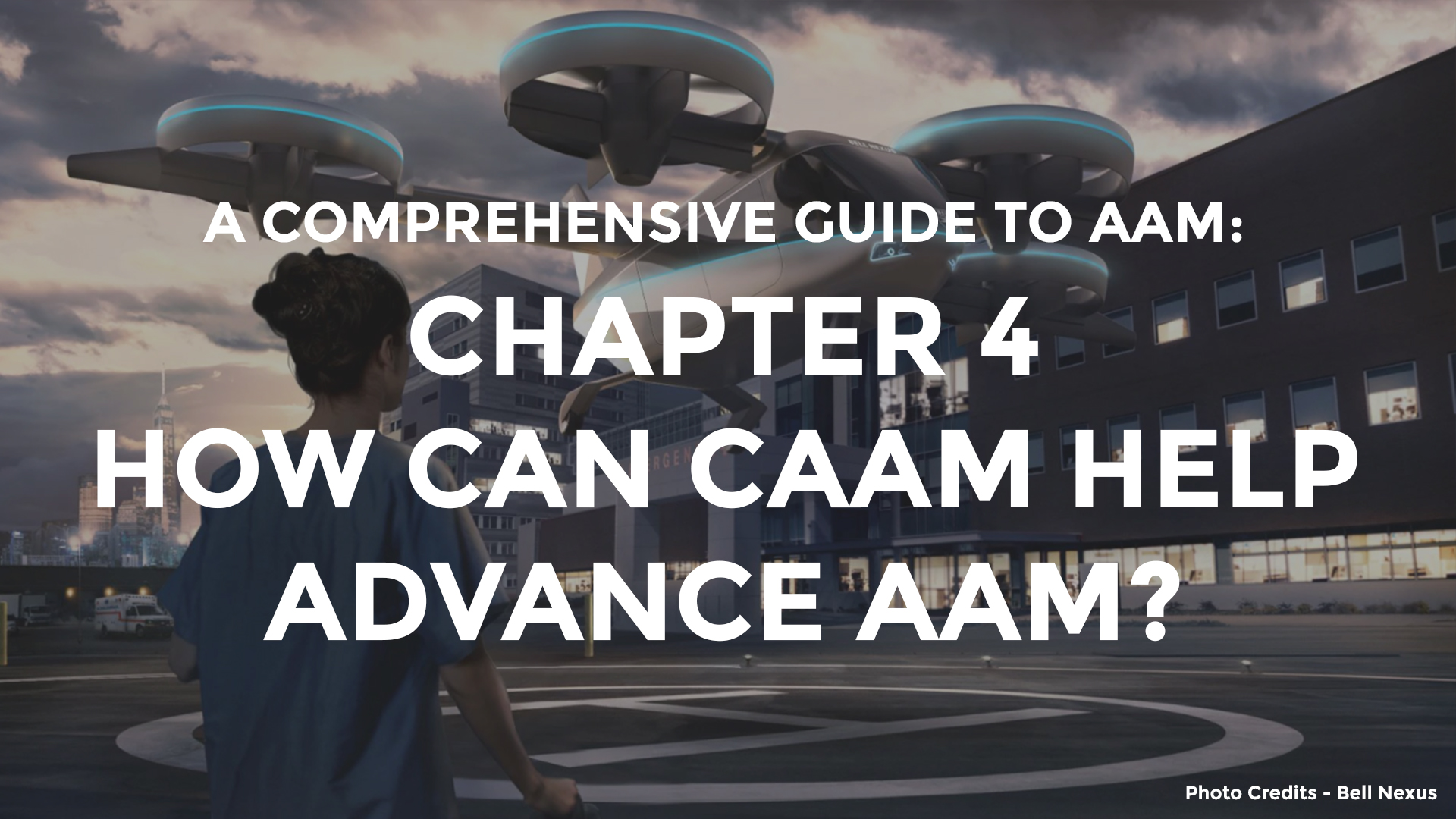 Welcome back to CAAM's Comprehensive Guide to AAM. In this fourth chapter of our six-part introductory guide, we'll focus on how can CAAM help advance AAM.
So please fasten your seatbelts and return your tray table to its full upright and locked position; we're ready to take off.
Chapter 4: How can CAAM help advance AAM?
CAAM can help advance AAM by serving as an industry leader and collaborator. We also want to be a matchmaker, connecting all groups and organizations that can help advance AAM.
As JR Hammond, founder & CEO, stated after CoMotion Los Angeles:
Canada's advantage is that we are very structured and organized; TransLink [Metro Vancouver's transportation network] has jurisdiction over thirteen cities in Metro Vancouver, for example. So reaching consensus is easier, and the implementation is also more straightforward because when TransLink decides something, it implements it across the board.
As JR expressed, Canada is in a unique position to implement AAM. It has the needs— large cities and remote/hard-to-access communities—and the structure & organization that AAM demands—Translink, Bell Helicopter Textron Canada Limited, CAE, etc.
Industry leader and CAAM partner Joby Aviation aim to have routine flights as soon as 2024. That's why they are today building their eVTOL and the structure they'll need tomorrow.
These two characteristics put the country, and CAAM, in an exciting position. If Canada moves fast enough, it can be the first to implement AAM nationally, placing CAAM under the spotlight.
Once on the stage, others could learn how CAAM and Canada outrun them while remembering that AAM must be equitable, inclusive, accessible, sustainable, and zero-emission to be genuinely advanced.
How can CAAM help advance AAM in Canada?
In Canada, as mentioned in Chapter 3, CAAM is bringing together Academia, Capital, Industry, and Government to get AAM off the ground in a safe, equitable, inclusive, zero-emission, and accessible way.
CAAM is also creating partnerships with governments to help understand how this new industry could help Canadians. That's why the National Research Council of Canada has been on board with us since day 1.
By having an extensive network, we at CAAM share challenges with our members and partners to help everyone do the research needed to understand AAM's needs and opportunities in Canada. This sharing of challenges also brings all groups and organizations together to find some of the answers essential to making AAM take off.
CAAM is also helping to advance AAM in Canada by focusing on studies and revenue-generating use cases applicable in each region of Canada—like the Vancouver and Toronto white papers.
This work will help the industry move forward nationally and create a framework to bring all the efforts together.
We listen carefully to each of the organizations we work together; they all share a collective need to have someone hold a vision for this technology that is better than the sum of its parts—not just profitable, but also sustainable and equitable.
We've begun this process by bringing together regional groups and producing feasibility studies and reports on the social, economic, and environmental impacts. Following this, we're in the process of assembling our Master Plan for the industry as a whole so that everyone who wants to take part in this industry can see where their efforts are best applied.
We hope that by producing these reports and building this master plan, we will help everyone create the industry we want to be part of and, more importantly, an industry we're proud of belonging.
Who are we talking to?
By helping local and regional governments stay up to date on which technologies are coming soon, CAAM ensures that they can include minor changes to their transportation master plans and zoning requirements that will set them up to be more resilient and livable places over the long term.
On a federal level, we're working with the National Research Council Canada to assure all national regulators that academia and industry aren't overlooking their most pressing concerns around safety. We also do our best to inform governments that the groups and organizations we know about address those concerns step by step.
CAAM also keeps multiple lines of communication open with companies like Skyroads, who are helping to create "roads in the sky," and CAE, who are today training the pilots of tomorrow.
And finally, we are also lucky to have the support of academic leaders across Canada and the world, such as Hugh Liu (University of Toronto) and Sanja Boskovic (BCIT). People like Hugh and Sanja require the most up-to-date information to help research the problems (noise reduction, performance on cold temperatures, etc.) and train this new industry's workforce.
Summarizing
CAAM can help AAM in Canada by bringing together different stakeholders to the table, such as Academia, Capital, Industry, and Government, while also sharing challenges and creating collaboration and open-talk scenarios between all of them.
Worldwide, CAAM can serve as an industry leader, collaborator, and matchmaker for nationally implementing AAM while being equitable, inclusive, accessible, sustainable, and zero-emission.
What's next?
Chapter 5 of the Comprehensive Guide to AAM: Vertiports and Government
See you!
By Giovani Izidorio Cesconetto