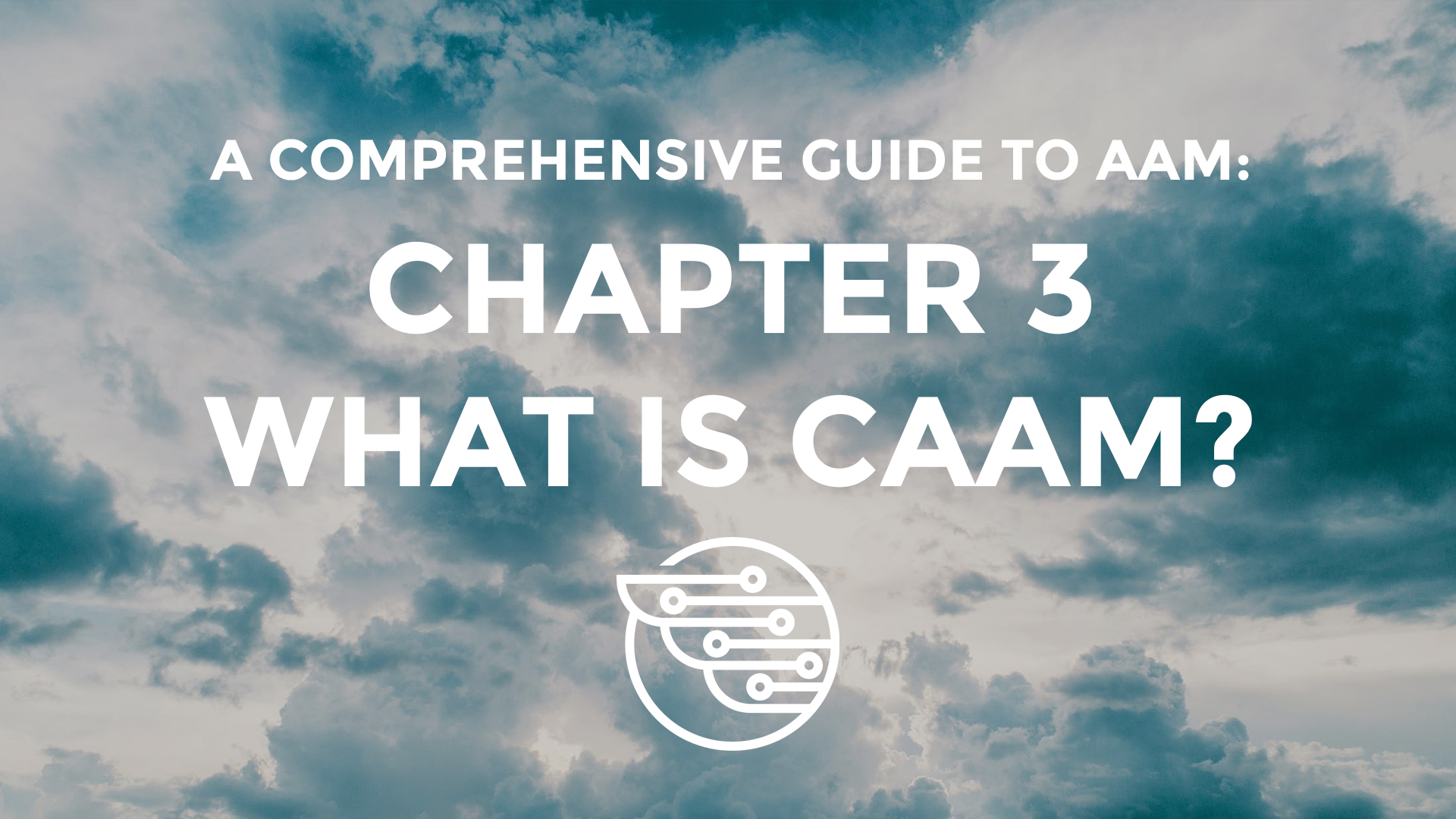 Welcome back to CAAM's Comprehensive Guide to AAM. In this third chapter of our six-part introductory guide, we'll focus on CAAM.
So please fasten your seatbelts and return your tray table to its full upright and locked position; we're ready to take off.
Chapter 3: What is CAAM?
The Canadian Advanced Air Mobility Consortium, best known as CAAM, is a dream.
Or even better, CAAM is JR Hammond's vision for the future.
JR is the founder & CEO of CAAM. He has a PPL (Private Pilot License), and he is a citizen of the world—he has lived in Calgary, Toronto, Vancouver, Barcelona, Hong Kong, and Shanghai.
The experience of living in such different cities across three continents gave JR a unique perspective of the challenges the world is facing.
His previous professional experience with the United Nations Framework Convention on Climate Change (UNFCCC) is vital to explain how he created CAAM's vision, mission, and values.
While working at UNFCCC, JR had the chance to see firsthand the impact of climate change while also absorbing the importance of a zero-emission future.
But more important than a dream, CAAM is also a reality.
CAAM is a not-for-profit (NFP) consortium advancing the AAM field in Canada by connecting dots and starting conversations.
We're involved in all parts of the process of making AAM a reality in Canada. CAAM has connections in Academia (University of British Columbia, BCIT, University of Toronto, etc.), in Capital (Nexa Capital Partners, Crown Consulting Inc., KingSett Capital, etc.), in Industry (Air Canada Cargo, Helijet International Inc., Iskwew Air, etc.), and Government (BC Ministry of Transportation, National Research Council of Canada, Translink, etc.).
In short, CAAM is the place in Canada for all things AAM.
What are CAAM's mission, values, and vision?
As mentioned, JR created CAAM to help shape a better future. One where AAM is fully operational, climate change is a long-forgotten issue, and inequity is a word that got thrown out of dictionaries.
Or in other words, CAAM's mission is to build an ecosystem of national collaboration in creating and operating a sustainable, equitable, and profitable AAM in Canada.
And CAAM builds the future by always remembering our values:
Lean into vulnerability

Serve the work

Take good care

Celebrate the journey.
We can combine the mission with the values to make our vision for a unified national strategy for zero-emission AAM with regional implementation become a reality.
CAAM's six pillars
What makes CAAM unique internationally is our commitment to six pillars that we believe are necessary to make AAM an agent of global positive change.
Equitable:

We believe AAM must equitably benefit all members of the community it serves as much as possible

Inclusive:

AAM must work to include the diverse race, gender, religion and sexual orientation of users​

Zero Emissions:

AAM must lead the charge in decarbonizing transportation established in the United Nations Sustainable Development Goals

Intermodal:

AAM must integrate and expand on existing transportation modes and networks

Accessible:

AAM must provide equal opportunity for use across all users, regardless of ability

Resilient:

AAM must be adaptable, responsive and multi-mission oriented.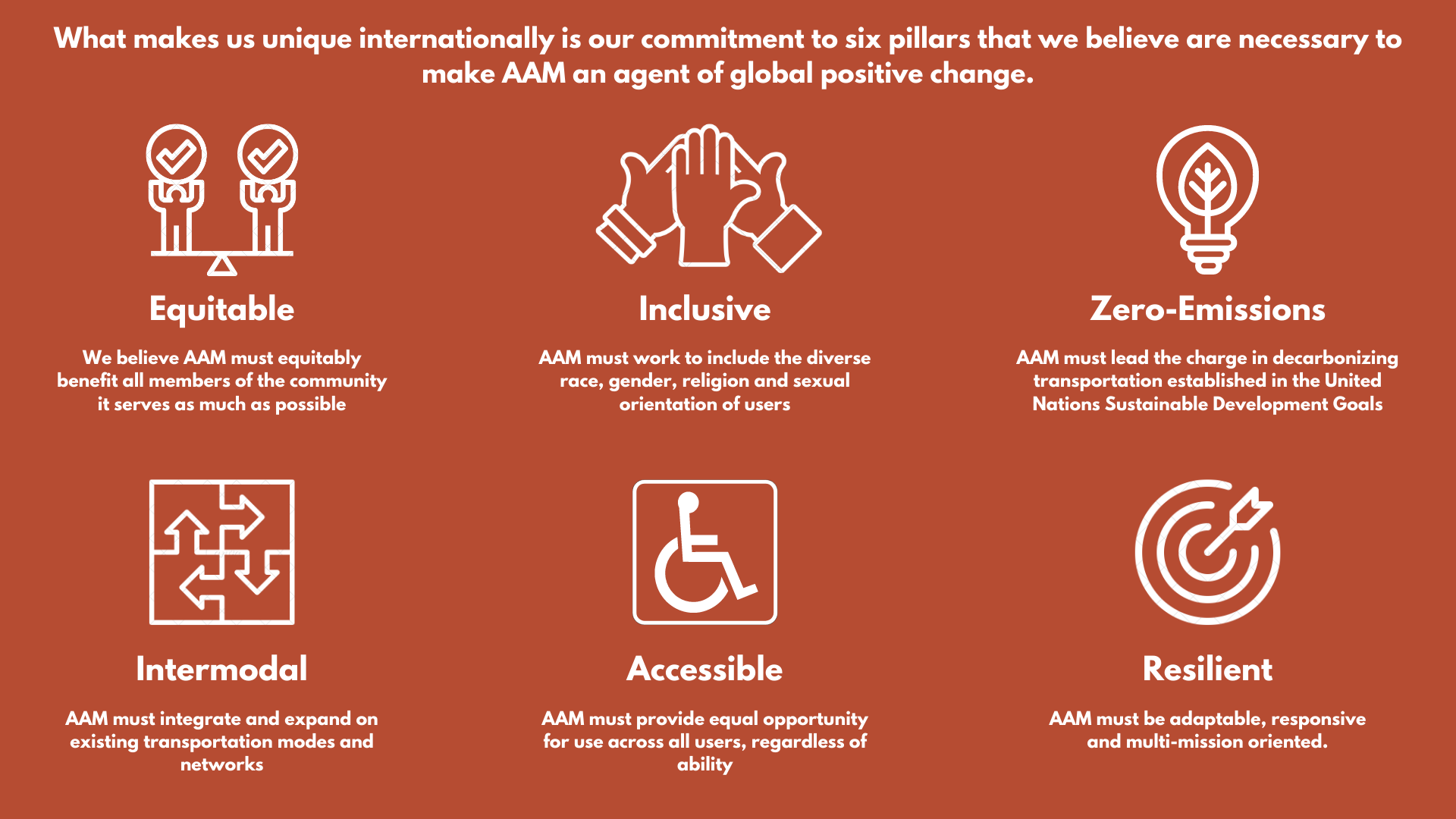 The six pillars are fundamental for CAAM because we don't believe that success is its own end; we believe that success is only truly relevant when accompanied by beneficial impacts for everyone.
Summarizing
CAAM is a consortium pushing AAM in Canada while also pushing a positive and impactful agenda.
By connecting Academia, Capital, Industry, and Government, CAAM wants to see a zero-emission, equitable, and sustainable future in Canada sooner than later.
CAAM is a dream come true for JR and a dream becoming true for all of us.
What's next?
Chapter 4 of the Comprehensive Guide to AAM: How can CAAM help advance AAM?
See you!
By Giovani Izidorio Cesconetto