CAAM FOUNDING MEMBER HELIJET ORDERS BETA TECHNOLOGIES eVTOL AIRCRAFT FOR PASSENGER SERVICE IN CANADA
CAAM's founding member Helijet purchases BETA Technologies ALIA 250 eVTOL aircraft representing Canada's tangible leap towards Advanced Air Mobility (AAM) in British Columbia.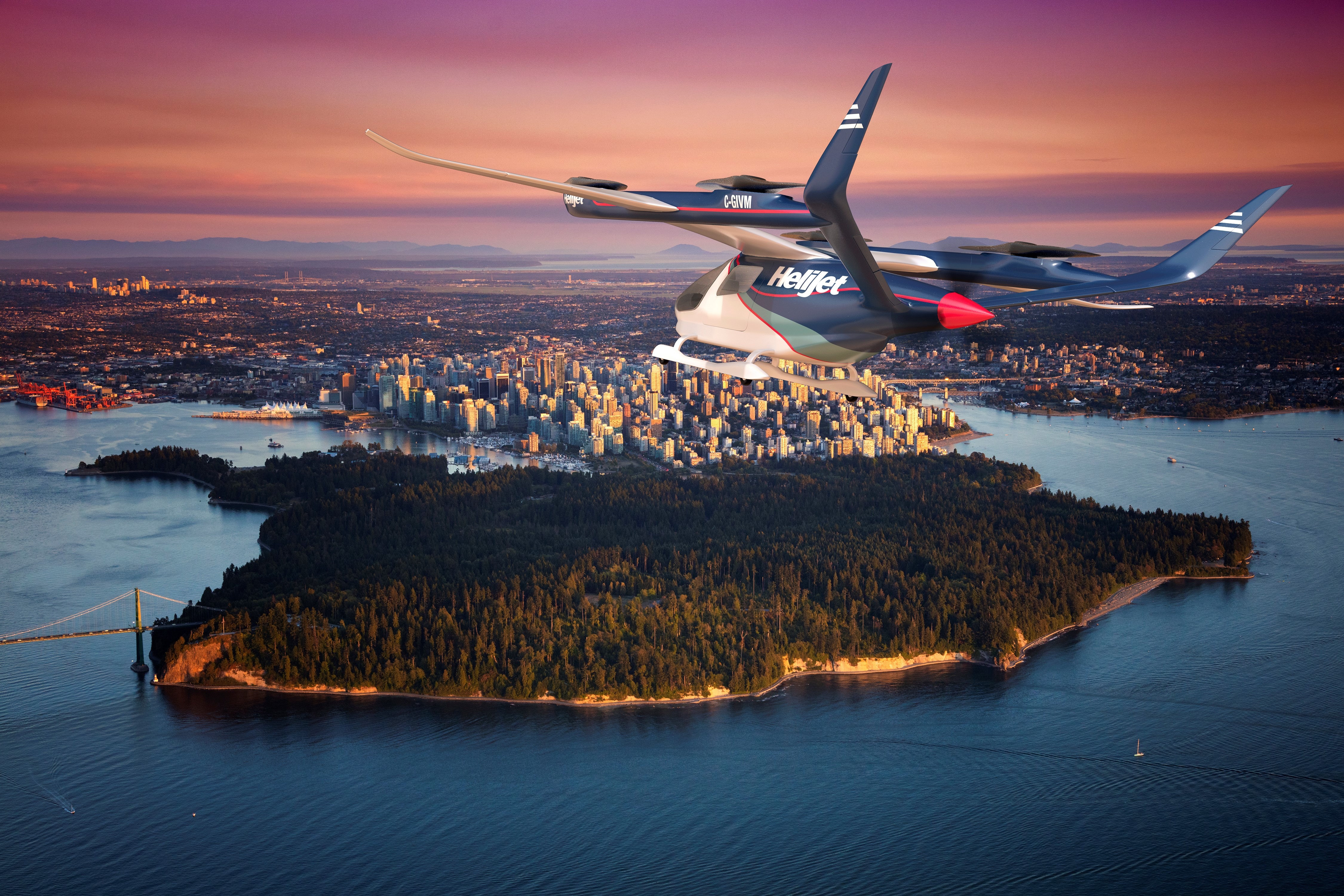 VANCOUVER, British Columbia, Canada (October 31, 2023) – Canadian Advanced Air Mobility (CAAM), as the federal not-for-profit and national voice for Advanced Air Mobility (AAM) in Canada, is excited to announce the partnership between founding member Helijet International Inc., and BETA Technologies, and the purchase of the ALIA 250 eVTOL aircraft.
Helijet International Inc., North America's premier helicopter carrier, and BETA Technologies, a pioneering electric aerospace company, have joined forces to propel Canada's AAM industry into a new era of sustainable, efficient, and innovative transportation solutions. Helijet President and CEO Danny Sitnam made the announcement alongside British Columbia Premier David Eby, BETA Sales Director Skye Carapetyan and CAAM Executive Director JR Hammond at Helijet's Victoria Harbour Heliport. This partnership signifies a significant milestone that aligns with CAAM's mission to advance and unify the AAM sector in Canada.
JR Hammond, Executive Director of CAAM, expresses his enthusiasm, stating, "Helijet's purchase of BETA Technologies' revolutionary ALIA aircraft is an aviation milestone for advanced air mobility in B.C. and Canada. CAAM's mission is to build an ecosystem of national collaboration in AAM and create a sustainable, equitable and profitable AAM industry in Canada. With its mature air travel market demographic and existing challenges for conventional transportation between Vancouver Island and the Lower Mainland, southern B.C. provides an exciting opportunity to demonstrate the commercial viability and environmental sustainability of AAM in B.C. and Canada."
Under this visionary collaboration, Helijet will become the first Canadian company to integrate electric vertical take-off and landing (eVTOL) aircraft, the ALIA 250 from BETA Technologies, into its existing network of helicopter services. This transformative step will introduce quieter, more cost-effective, and environmentally sustainable air travel for residents of southwestern British Columbia and the Pacific Northwest.
"We are proud to partner with BETA Technologies, who are leaders in the advanced air mobility space," said Sitnam of Helijet. "We are committed to introducing and integrating zero-emission, vertical lift technologies and related ground/building infrastructure in the communities we serve and look forward to transforming our current heliport infrastructure to meet future urban air mobility vertiport standards."
Premier Eby emphasized that the Province of British Columbia is dedicated to adopting and supporting sustainable aviation technology, along with opportunities for developing infrastructure in the province.
"This provincial government recognizes the potential of advanced air mobility to decarbonize the aviation sector, improve regional connectivity, improve emergency response times and introduce new manufacturing opportunities in our province," said Premier Eby. "We congratulate Helijet on their exciting news and look forward to British Columbia becoming a leader in the advanced air mobility sector."
The introduction of eVTOL aircraft will not only enhance the passenger experience but also elevate Helijet's capacity to provide essential services such as emergency response, air ambulance, and organ transfers. This innovation is a crucial step forward in enhancing the overall well-being of communities in the Lower Mainland and remote regions.
Helijet's decision to become BETA's first commercial customer order from Canada is due in part to BETA's intention to certify the aircraft for IFR (instrument flight rules) operations, and its interest to consider growing its industrial base in Canada. BETA has already begun to grow its presence across the country with an R&D facility based out of the Montréal-Pierre Elliott Trudeau International Airport.
This partnership between Helijet and BETA Technologies, coupled with CAAM's dedication to advancing AAM innovation, marks a significant leap toward the operationalization of a more sustainable, efficient, and interconnected aviation ecosystem. CAAM remains committed to championing the AAM sector's growth and fostering an environment of innovation, safety, and collaboration.
About CAAM
Canadian Advanced Air Mobility (CAAM) is the federal not-for-profit organization representing the voice of the  Advanced Air Mobility (AAM) industry in Canada. CAAM has partnered with over 100+ organizations including industry, academia, private capital and all three levels of Canadian government to launch projects aimed at operationalizing the AAM industry. CAAM was founded in partnership with Canada's leading federal research and development organization, the National Research Council of Canada (NRC). To date, CAAM is guided by its National Board comprised of Eric Lefebvre – NRC, Stella-Marissa Hughes – CAE, Ameet Sareen – Air Canada Cargo & Danny Sitnam – Helijet. Together, CAAM and the National Board collaborate with the Canadian federal authorities of Transport Canada and NAV CANADA to create the clearest path for connecting Canada and the world through the future of AAM.
Images, renderings, B-roll, logos and media kit are downloadable here.
MEDIA CONTACTS
Canadian Advanced Air Mobility (CAAM)
David Dong
Marketing Manager
+1 506-961-7728