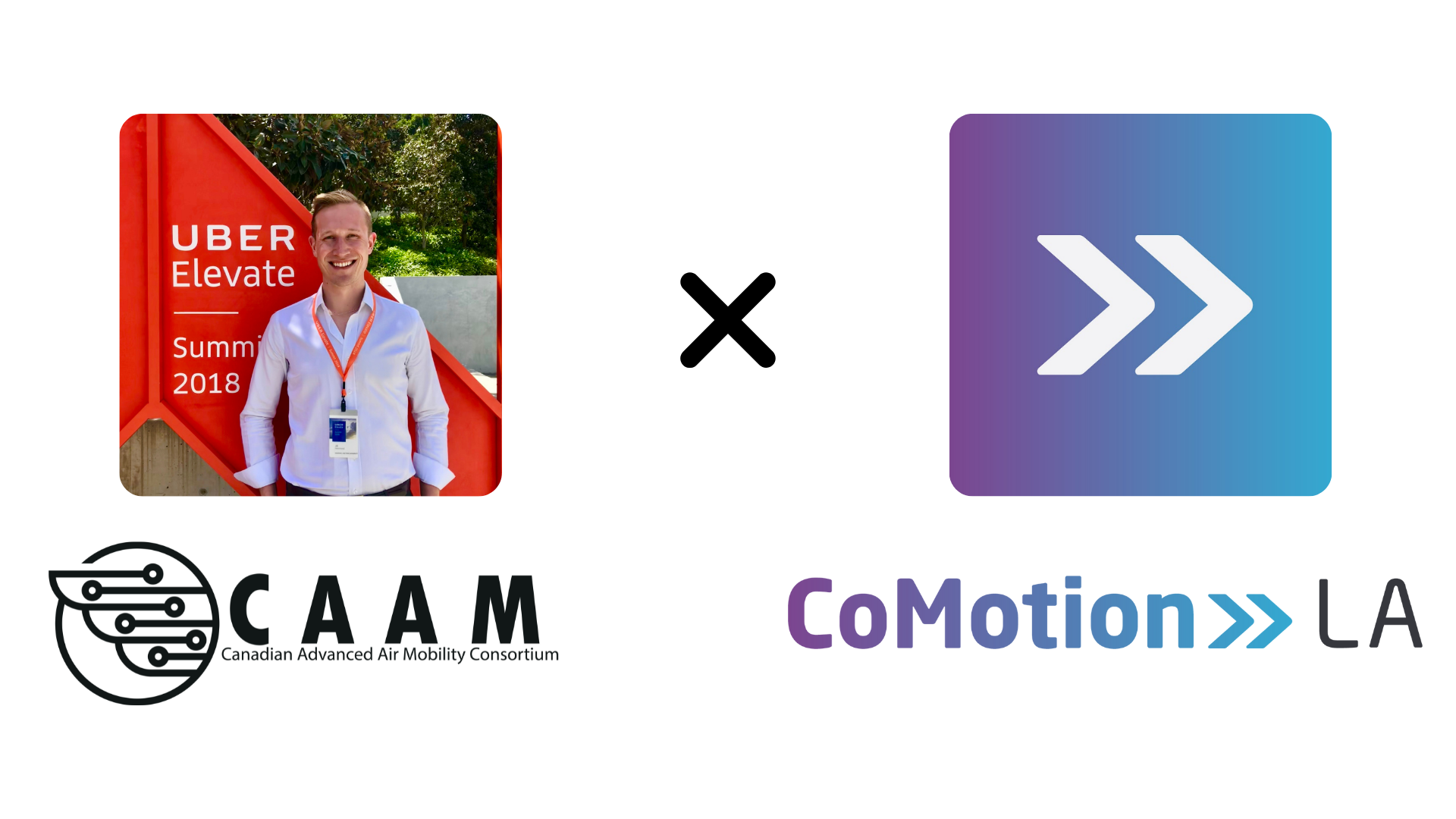 This is the second and final part of my chat with JR Hammond (Founder & CEO of CAAM) about CoMotion Los Angeles.
If you didn't read part 1, click here. There, we talked about AAM as a whole—companies, investors, and the future.
Here, we'll discuss how AAM relates to Canada and a zero-emission future.
Let's jump right into it.
What are the trends you see that the Canadian industry might want to know?
First, increased private investment. Second, engagement from global airports such as LAX. And third, engagement with Public Transportation agencies such as the Los Angeles Department of Transport.
Do you think YVR (Vancouver International Airport) and TransLink (Metro Vancouver's transportation network) can learn something from what's happening in Los Angeles?
Yes! But not only them. CAAM is expanding to other cities; we've recently launched our Toronto White Paper, for example. So we want YVR and TransLink on board and similar engagement models from other places such as Pearson Airport, Billy Bishop Airport, and Metrolinx in Toronto, Trudeau Airport and STM in Montréal, and Atlantic Canada.

Los Angeles can teach us a lot, but we can also teach them a lot.

Canada's advantage is that we are very structured and organized; TransLink has jurisdiction over thirteen cities in Metro Vancouver, for example. So reaching consensus is easier, and the implementation is also more straightforward because when TransLink decides something, it implements it across the board.
Anything unexpected that you saw?
Maybe this might not be a surprising aspect, but one of the important pieces that I don't spend a lot of time in it is the multimodal aspect.

Specifically, there were all modes of transportation at this conference, from electric scooters, electric bikes, electric vehicles, autonomous vehicles, electric buses, hydrogen buses to the aircraft side.

So it was really nice to see the whole integrated multimodal transportation aspect. 
When you see the whole multimodal aspect of transportation, can you see how we can implement AAM?
To be honest, it was a little bit discouraging to see the whole transportation sector because there are so many immense challenges with shared scooters and bikes. Like how to stop people from vandalizing them? Or how to prevent people from throwing them into power lines? This is an issue they are facing, and it's ridiculous.

So it was unexpected to see how many issues are still ongoing even with relatively basic transportation technologies that may or may not apply to AAM but just… the complexity, the intermodal complexity.

And we know we cannot create a solution that doesn't tie in all of these, so it's almost like they need to figure out their problems so that we have an opportunity to integrate with them, and it was discouraging to see how many problems they still have.
They've been around for such a long time; it seems like they should've solved the majority of their problems by now…
And even as a thing as simple as bikes which, you know, have been around for decades and decades, but all of a sudden we put a battery and make them public, just chaos happens.
What significant parts would can you and CAAM take away from CoMotion?
Number one is ensuring, showcasing, and engaging CAAM's Masterplan and Triple Bottom Line Model aiming for future implementation on the global front.

Number two is the importance of AAM focusing on sustainability and zero-emission. CoMotion happened days after COP 26, and many people and companies that were in Glasgow participating in COP26 flew directly to Los Angeles to participate at CoMotion.

So they hammered down the narrative of sustainability in our transportation modes and talked a lot about the critical importance of our transition to zero-emission aviation.

That was a loud and very, very clear message. And fortunately, it aligns with CAAM's vision of what AAM must be.
Do you think because they were at COP26, that dictated the tone of CoMotion? They were talking about climate change in Glasgow and kept the conversation going in LA. Maybe if they weren't at COP26, they wouldn't talk so much about climate change and transitioning to zero-emission…
I don't believe so. The CoMotion event has a deep, deep theme of sustainability around it. Like it's the future, digital, electric, connected ecosystem.

I believe it was still fresh on their brains in the global sense, so we weren't just talking about LA… The world is moving towards this, and CoMotion presented another opportunity to continue this conversation.
Thank you for your time, JR!
My pleasure, Gio.
And that was my chat with JR about CoMotion Los Angeles.
I want to thank JR for making the time to sit down with me for this interview and highlight how kind he was throughout the conversation.
AAM is moving faster than people know, and CAAM is undoubtedly helping to speed up the timeline. And that is happening because JR is on the frontline of this field that unquestionably is the next massive revolution on how we move people, goods, and resources.
By Giovani Izidorio Cesconetto