New Mobility Options Coming to the Toronto Region for Passengers and Cargo
A Trillion-Dollar Global Industry, Advanced Air Mobility Will Transform Transportation and Offer Live-Saving Medical Benefits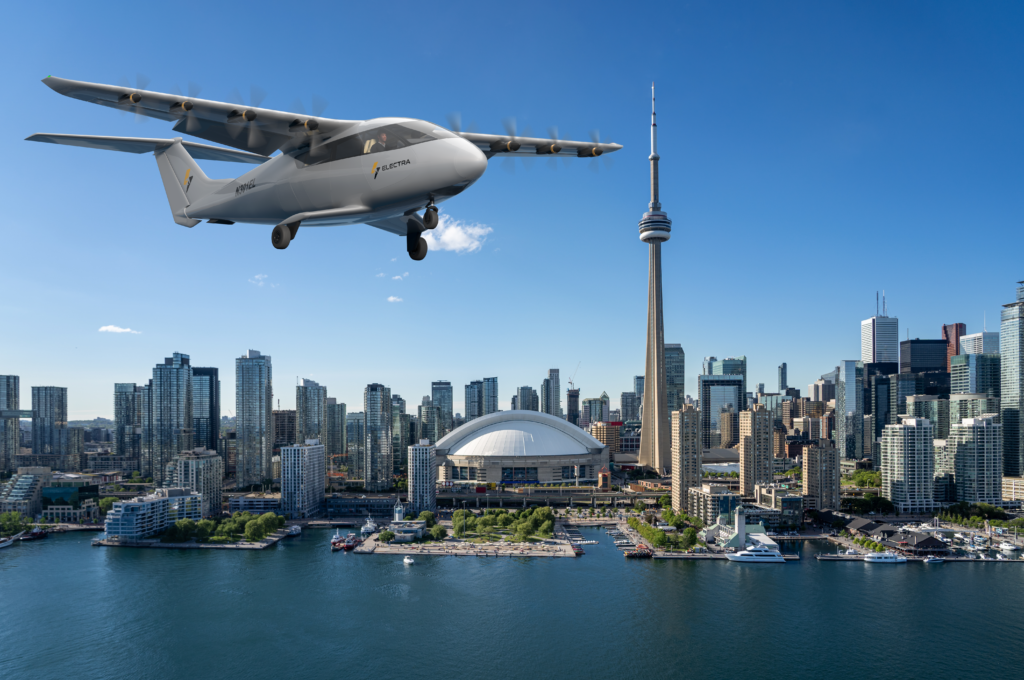 TORONTO, ONT. (Oct. 26th, 2021) – The Greater Toronto Area has what it takes to be an early user of Advanced Air Mobility—a new concept of air transportation that moves people and cargo between places that are not conveniently served by surface transportation—according to a new paper released by the Canadian Advanced Air Mobility Consortium (CAAM) In the next few years, quiet, lightweight, Zero Emission aircraft such as electric Vertical Takeoff and Landing (eVTOL) passenger aircraft and Remotely Piloted Aircraft Systems (RPAS, also known as drones) will transform mobility in the Greater Toronto Area for commuters and cargo.
The paper, "Advanced Air Mobility Comes to Toronto: Exciting Opportunities to Improve Urban Mobility of People, Goods and Services"(Summary here) was prepared by NEXA Advisors, a financial and economic advisory company in Washington, D.C. The research anticipates that Toronto will first deploy Advanced Air Mobility (AAM) in the medical field, transporting patients, medications, defibrillators, blood, organs, PPE, and radioisotopes for cancer treatment. Since AAM aircraft take off more rapidly than helicopters, they will more quickly transport patients suffering life-threatening emergencies in rural areas of the Golden Horseshoe to the closest trauma center. Moreover, the healthcare system will save a great deal of money using AAM aircraft, given the lower cost to purchase, operate, and maintain them, in comparison to helicopters.
AAM will open up new forms of regional air mobility: convenient, zero emission flights between city pairs whose distances are currently not commercially viable for airlines. Passengers will hop on quick, quiet flights from Toronto's Pearson International Airport and Billy Bishop Toronto City Airports to places like Kitchener, Peterborough, Barrie, Buffalo, Rochester, Detroit, Pittsburgh, Syracuse, and Cleveland.
In terms of traffic reduction, strategic use of AAM aircraft for delivery can remove thousands of trucks from the roads, trucks that often block entire lanes in rush-hour traffic. Cargo as diverse as heavy freight, depot-to-depot, retail packages, and just-in-time deliveries can be delivered in a variety of efficient aircraft traveling above traffic. This would result in immense savings in carbon emissions, noise, and wear and tear on the roads. The new aircraft are still in development and testing, with some being certified by 2024.
Stephen Lund, CEO, Toronto Global, said, "The introduction of a sustainable, equitable, and profitable Advanced Air Mobility industry in Canada and in the Toronto Region will create innovative solutions to existing environmental, infrastructure, and economic challenges. We welcome CAAM's paper, and its recommendations, as we seek to leverage this innovative technology and pioneer new opportunities for advanced air mobility to create better outcomes for the Toronto Region."
JR Hammond, Executive Director of CAAM, said, "Advanced Air Mobility is the next exponential leap in aviation. CAAM, as the national voice for the future of zero emission aviation, is bringing the knowledge and expertise to the greater Toronto region in helping craft the equitable, inclusive and sustainable air transportation of our future."
The research pointed to several factors determining Toronto's likelihood of being an early AAM user: high GDP, extreme road congestion, world class medical facilities, robust tech, strong financial and STEM educational sectors, and a flourishing aerospace industry already in place.
As a next step, CAAM has retained NEXA Advisors to prepare an Economic Impact Analysis in the coming weeks to determine the number of full-time permanent jobs AAM will bring to the Greater Toronto Area, as well as tax revenues and new overall economic activity. Based on similar studies, Toronto will likely see thousands of new jobs, hundreds of millions in new tax revenues, and billions in new overall economic activity between now and 2045.
About CAAM
Canadian Advanced Air Mobility (CAAM) is a Federal Not For Profit organization that acts as the national catalyst for the new Advanced Air Mobility (AAM) industry in Canada. CAAM has partnered with over 50+ organizations including industry, academia, private capital and all three levels of government to launch projects aimed at getting the AAM industry off the ground. Our goal is to create a national AAM strategy for Canada while implementing regional revenue generating use cases. CAAM was founded in partnership with Canada's leading federal research and development organization, the National Research Council of Canada (NRC). Learn more CAAM's ongoing projects here and sign up to stay updated on the industry here.
Media Contact
David Dong
[email protected]
https://canadianaam.com/media/