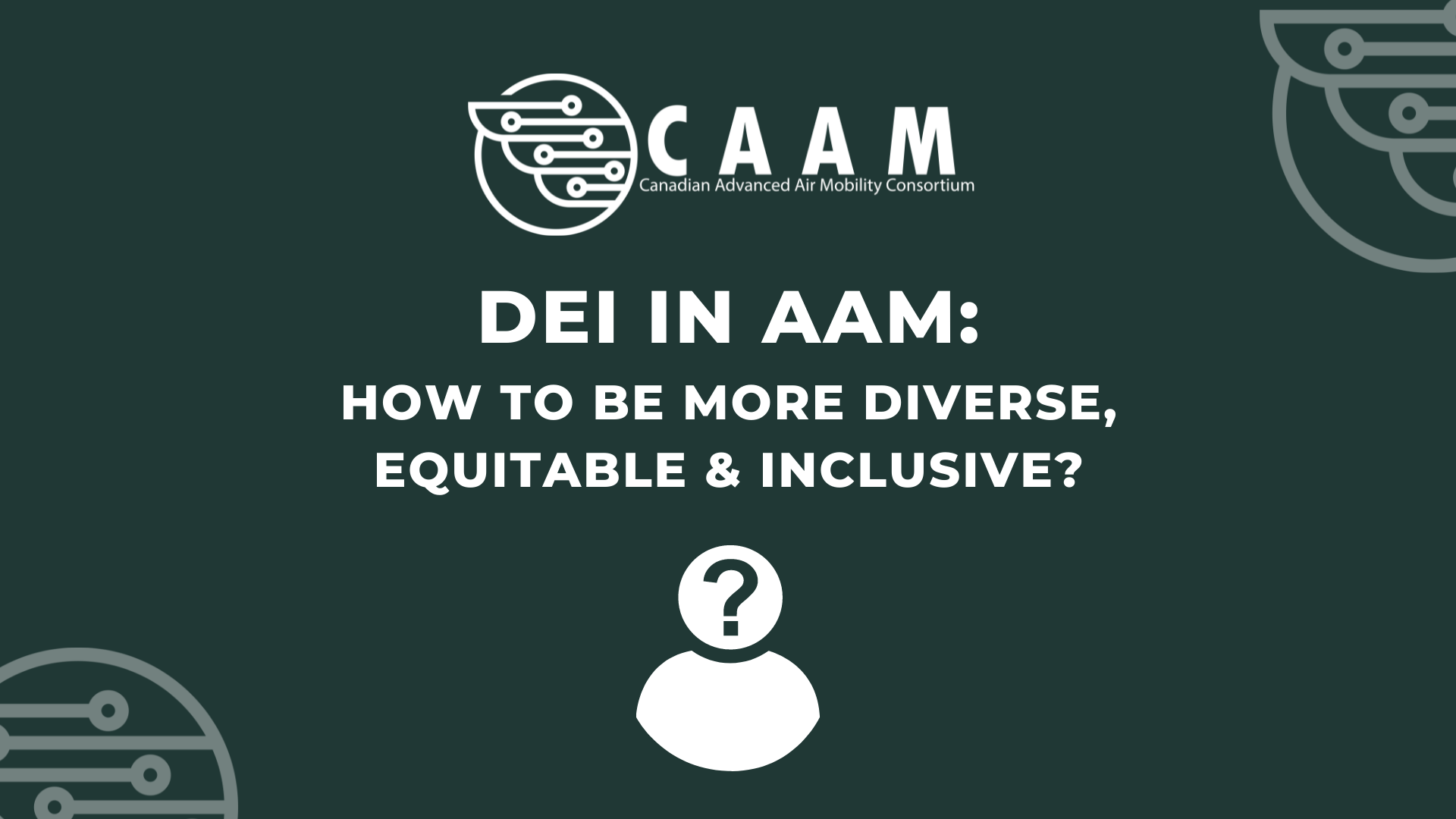 In this article, Equity in AAM: What does it mean, we explored both what diversity, equity, and inclusion (DEI) represent for Advanced Air Mobility (AAM) while also exploring numbers that show how traditional is not diverse, equitable, or inclusive and how AAM can boost its chances of becoming the future if all the stakeholders choose to walk the DEI path. So in this article, we'll take a closer look at the actions the AAM industry can take to ensure a more diverse, equitable, and inclusive future.
DEI in AAM: Is being a novelty a good thing?
In short, yes. Being a novelty allows AAM's stakeholders to define how the industry will look in the future. More importantly, because AAM is borning in a time where DEI matters, it'll incorporate those values since its early days. It won't be a matter of adapting and fixing mistakes; it hopefully will be mistakeless from the start.
It's also important to consider that AAM doesn't exist in a vacuum. And even though thinking about zero-emission flights, using autonomous aircraft, and utilizing the city skies to transport goods and people, is something new, using the sky as a mode of transportation isn't. Traditional aviation has existed for a long time now, and as such, AAM can learn a lot from it.
Because AAM doesn't exist in a vacuum and is trying to be better than traditional aviation, there's no need to hide the dirt under the carpet. AAM can and have to remove all the skeletons from the closets before moving forward. Learning from past mistakes is the only way to avoid the same traps and fly ahead.
DEI in AAM: Actions and examples
The first action AAM must take to avoid past mistakes is not to be afraid, "it's more about knowledge as most company management does not know what to do regarding DEI. They are unsure of what the next steps are, and they don't want to make mistakes," says Marlene Conway Diels, Diversity Development Network of Canada (DDNC).
The second action AAM must take the time to learn about DEI and how to apply it every step of the way. A quick web search shows various options like this one from the University of British Columbia and this one from Cornell University. Stakeholders must also engage in DEI conversations; the Uplift events organized by the Canadian Advanced Air Mobility Consortium (CAAM) are an example of how to participate in the conversation.
And the third action AAM has to take is learning with the already existing examples such as Teara Fraser, Jo-Anne Tabobandug, and Sharon Rossmark.
Teara Fraser is the founder of the not-for-profit indigenous LIFT Collective where she launched Give them Wings (Indigenous Youth Taking Flight). Fraser also founded Iskwew Air, making her the first Indigenous woman to launch an airline in Canada. Since day one, Fraser and Iskwew Air have been proud to be with the Canadian Advanced Air Mobility Consortium (CAAM). With CAAM, Fraser mediated the Uplift Event: Indigenous Peoples in AAM: Where is the opportunity?
Jo-Anne Tabobandug is the Dean of Aviation at the First Nations Technical Institute, contributing to indigenous education for almost 30 years—14 as Chief Flight Instructor at FNTI. Tabobandug is the winner of the Elsie Macgill Education Award and, historically, the First Peoples' Aviation Technology – Flight has more than 35% female students. Tabobandug also participated in last year's CAAM Uplift Event: Indigenous Peoples in AAM: Where is the opportunity?
Sharon Rossmark is a Federal Aviation Administration (FAA) certified remote pilot, author, international speaker, and the CEO of Women and Drones LLC, the premier global platform for women in the Uncrewed Aerial Systems (UAS) industry. Her executive background includes corporate officer experience with diverse industry and functional positions in publicly traded Fortune 100 and start-up companies.
Those are only three in a sea of examples, but they prove that AAM can be diverse, equitable, and inclusive. All it takes is leaving the bubble, the comfort zone, to see the lessons those three powerhouse women and all others are teaching.
By Giovani Izidorio Cesconetto