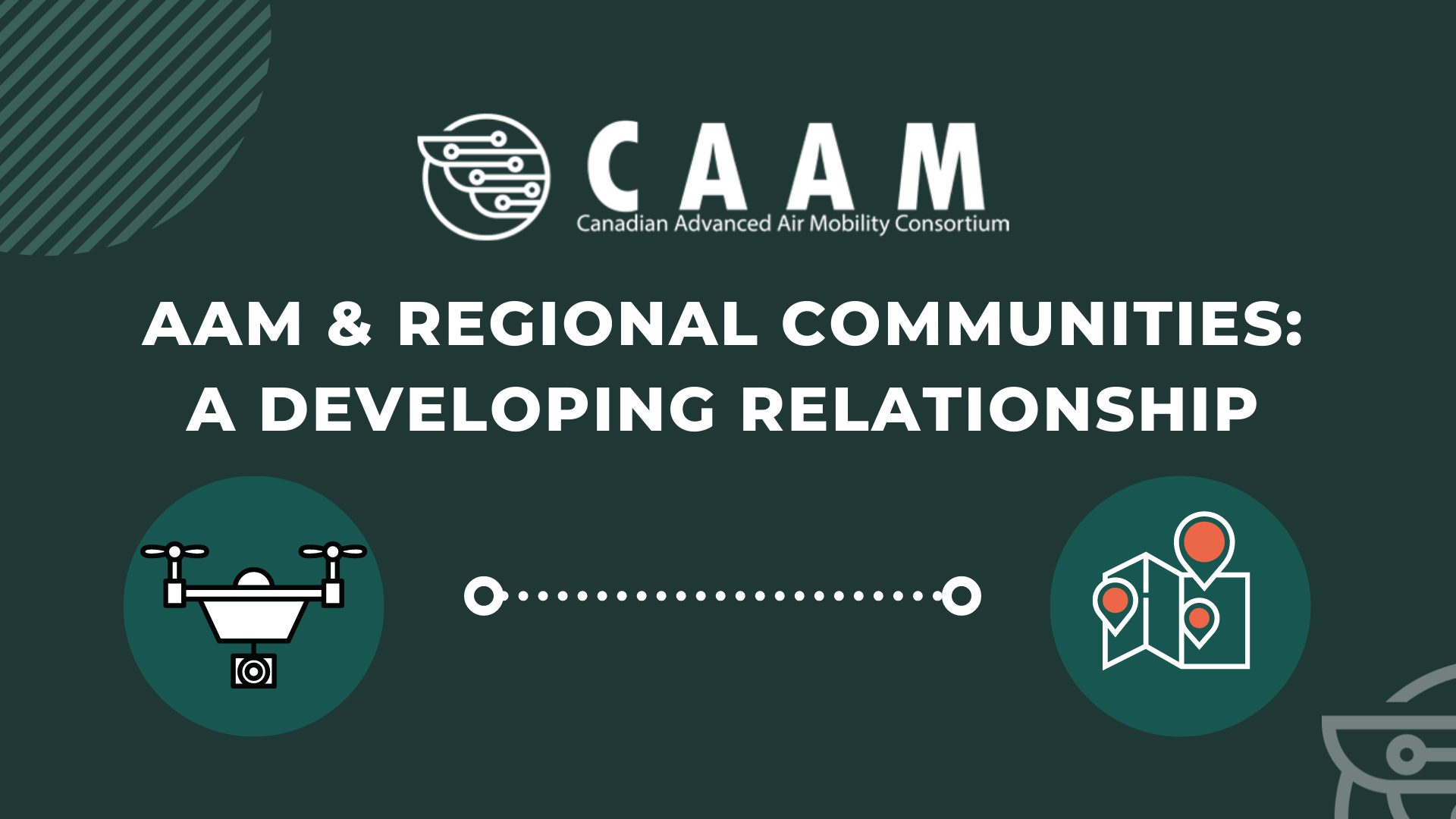 There's no denying that we need to take action against climate change today, as there's no denying that aviation—aircraft and airports—are part of the problem; as Jon Baker writes,
The aviation sector is facing increasing pressure to clean up its act when it comes to climate change, but gas-guzzling airplanes aren't the only culprits. As airports expand, so too does their carbon footprint, with more energy required to power new terminals, ground transport vehicles and the creation of infrastructure. Building capacity for additional aircraft can also create a backlash amongst environmentalists […]
So why does the Canadian Advanced Air Mobility Consortium (CAAM) believe that Advanced Air Mobility (AAM) can benefit regional and rural communities? Why is this worth pursuing? We don't have all of the answers; that is why we are collaborating and expanding our network. Establishing Regional Air Mobility (RAM) cannot be done alone without the critical input of regional communities. 
AAM is already helping regional and remote communities
Regional communities are already leaping AAM with the adaptable purpose of expanding into multiple industries. This zero-emission transportation mode can undeniably offer solutions that traditional modes of transportation can't. A few examples, the partnership between InDro Robotics and Penelakut First Nation carried medical supplies on a journey that typically takes four hours one way in seven minutes—opening opportunities for improving medical care within remote communities.  
Another example is the University of British Columbia, Drone Delivery Canada (DDC), and Stellat'en First Nation's partnership on the Drone Transport Initiative to transport medical supplies via Remotely Piloted Aircraft Systems (RPAS)—better known as drones. The autonomous aircraft allows transportation during travel restrictions because there's no need for a crew; only the cargo travels from point A to B.
AAM is doing excellent work in multiple endeavours that will benefit from this technology, such as land stewardship and monitoring practices for communities to monitor natural resources and climate change effects over time. Indigenous communities are also already using this technology to reforest wildfire-affected areas in B.C, helping to regenerate large amounts of forests sustainably and create new resources in assisting the reduction of climate change effects.  
RPAS may also help organs for transplants get to the people who need them quicker and more cost-effectively, as Unither Bioeletronics proved with their proof-of-concept project A Breath in the sky.
How to minimize the impacts?
Now that we established that AAM and RAM could help underserved communities, it's time to take a look at minimizing the impacts on both the community and the environment.
First, it's important to highlight that AAM naturally is more sustainable than traditional aviation because the aircraft relies on electric batteries and hydrogen, which is the opportunity for aviation to be zero-emission. Second, the infrastructure is adaptable to the capacity requested by the community. And third, it's possible to build eco-friendly and versatile aviation infrastructure. For example, the International Civil Aviation Organization (ICAO) has an Eco Airport Toolkit and Cases Studies regarding sustainable airports.
But how can an airport be green? There are a few examples around the world:
Galápagos Ecological Airport, Galápagos Islands, always had to think about green solutions because it's home to the Galápagos National Park and the Galápagos Marine Reserve. Galapagos Ecological Airport was designed to run completely on solar and wind power, with 65% of the total energy supplied by windmills and 35% coming from photovoltaic panels fitted on walkways. A massive 80% of Galápagos' infrastructure was created using recycled materials, including steel pipes taken from oil extraction fields in the Ecuadorian Amazon.

Oslo Airport, Norway, is the "The World's Greenest Airport." It gained that title by using "recycled and natural materials embody the Oslo terminal expansion. The extension was built with reused steel and environmentally friendly concrete mixed with volcanic ash […] snow is taken from Oslo's runways and stored in an onsite depot for use as a coolant in summer. This aspect won the airport an 'excellent' sustainability rating under the Building Research Establishment Environmental Assessment Method standard."

Stockholm Arlanda Airport, Sweden, was the first European airport to achieve carbon neutrality—back in 2009. "To save electricity, Stockholm makes use of a unique biofuel system to heat its terminals, hangar and airfield buildings. Water is collected by a series of wells linked to an underground aquifer, before being sent to the terminal's air conditioning system during summer, and to a biofuel-powered heating system in winter."
For other examples, click here.
And even deforestation can be a thing of the past. Becket Rankine proposed to build the Goodwin Airport ashore. The 'floating airport' would create a complete shoreline ecosystem for fully submerged and tidal sea life if constructed using the same approach and technology the Vancouver Convention Centre West used.
Where is the infrastructure going to go?
After establishing RAM's impact on regional communities and that industry can adapt aircraft and infrastructure to the community's needs, the next step is to ensure that this is an environmentally-friendly and sustainable option to serve communities better. There is no correct answer to deciding where or how to build the infrastructure needed. There are many concepts, from just an open space with a plug-in or utilizing current airports to developing full vertiports.  
AAM has the potential to assist regional communities with emergency management, such as new concepts for air ambulances. As stated by NASA,
"Aside from carrying passengers around, larger UAVs [Uncrewed Aerial Vehicles] can accomplish different missions that take advantage of their flexibility. For instance, using a UAV as an ambulance means that it can avoid traffic and easily access locations that regular ambulances and helicopters cannot."
That's why Helijet heavily invests in AAM and is a founding member of CAAM. RAM utility and sustainability will only be as good as its capacity to include regional communities in the decision-making. Along with the industry expanding its understanding and working with communities to develop projects within their capacity and potential to grow.
Collaborative work is the only way to establish and benefit from the full potential AAM has yet to see.  
By Darian Edwards and Giovani Izidorio Cesconetto