Overview
September 6, 2023
8:00 am PDT – 6:00 pm PDT
Register Now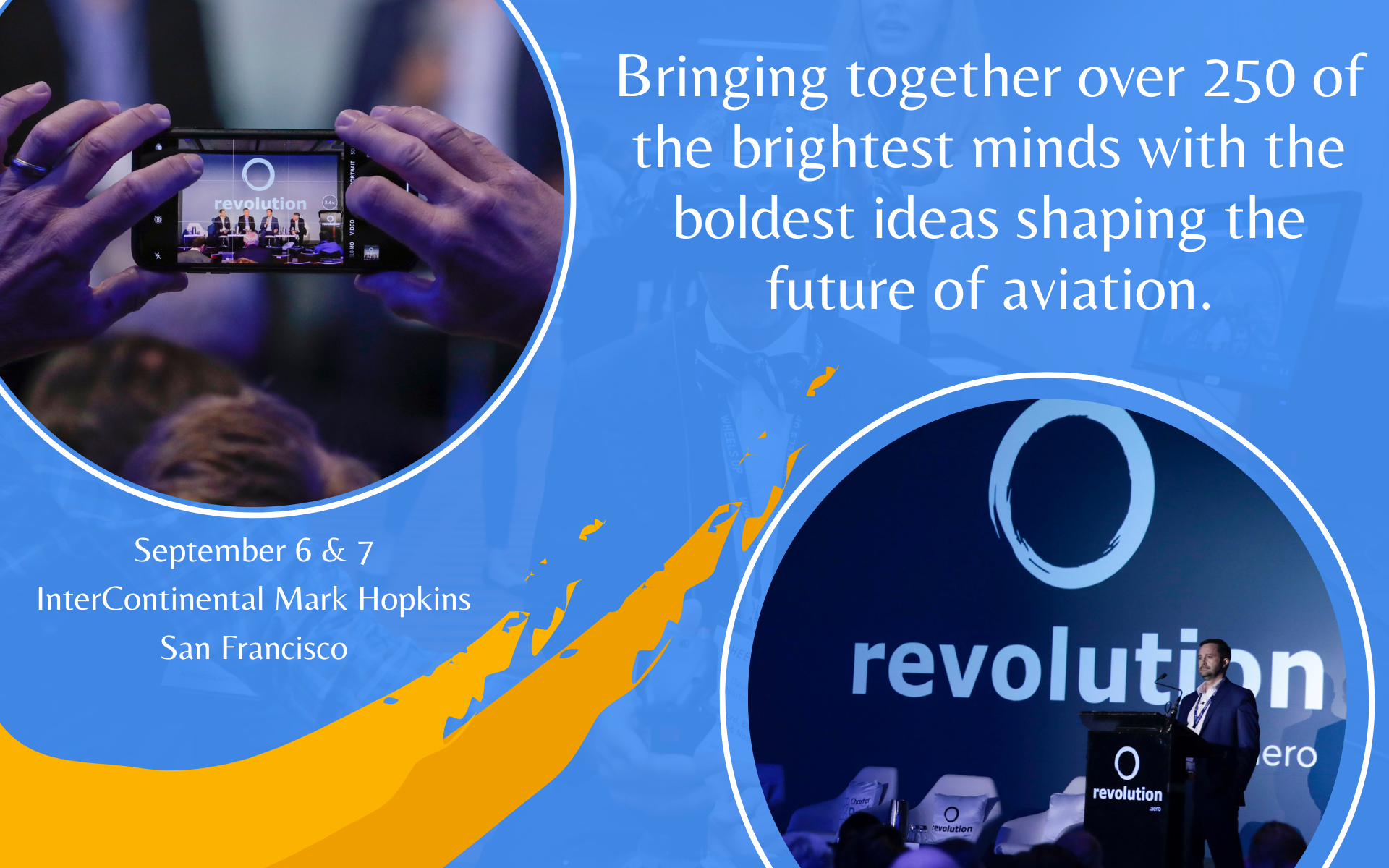 Revolution.Aero is the premier event for the aviation and aerospace industries, bringing together thought leaders, innovators, investors, and disruptors to explore the future of flight.
Revolution.Aero San Francisco 2023 also has a strong focus on finance. A large portion of the audience is VCs/Investors, aircraft lessors, investment banks, and customers – making this conference an incredibly effective business opportunity. Attendees have secured investments (eg: Elroy Air), signed LOIs (eg: ELECTRON and MintAir), signed mandates and formed companies as a direct result of Revolution.Aero events.
Over two days, attendees will have the opportunity to hear from a diverse range of speakers, participate in interactive sessions, and network with like-minded individuals passionate about shaping the future of aviation and aerospace.
Some of the topics that'll be explored include:
Choosing the right investor
The challenges and benefits of hybrid, electric and hydrogen-fueled propulsion
The role of the aviation revolution in the mobility revolution
How OEMs can finance production
Issues of insuring advanced aircraft
Integrating new technology in existing airspace
Where advanced air mobility will be in 2035
Where is regional aviation on the hype scale
Tune into keynote presentations from some of the most influential voices in the industry, as well as showcasing the latest innovations and technologies that are transforming aviation as we know it.
The event is designed to be highly interactive, with plenty of opportunities for attendees to network, collaborate, and learn from each other.  You have the chance to meet with aviation giants such as Airbus, Joby, Archer, NBAA and Bristow as well as exciting startups leading the revolution. Over 10 hours of networking are scheduled across the two days giving you the best chance to make long-lasting and powerful connections.
Whether you're an entrepreneur, investor, policymaker, or simply someone who is passionate about leading the future of aviation and aerospace, Revolution.Aero San Francisco 2023 is an event you won't want to miss.
We are confident that Revolution.Aero San Francisco 2023 will be a valuable and unforgettable experience for everyone who attends. Whether you're an industry veteran or creating the next unicorn, you'll find plenty of inspiration, insights, and opportunities to help you stay ahead of the curve.
To secure your ticket to Revolution.Aero San Francisco, reach out to [email protected] for a $100 discount!