Overview
November 7, 2023
5:00 am PDT – 3:30 pm PDT
Register Now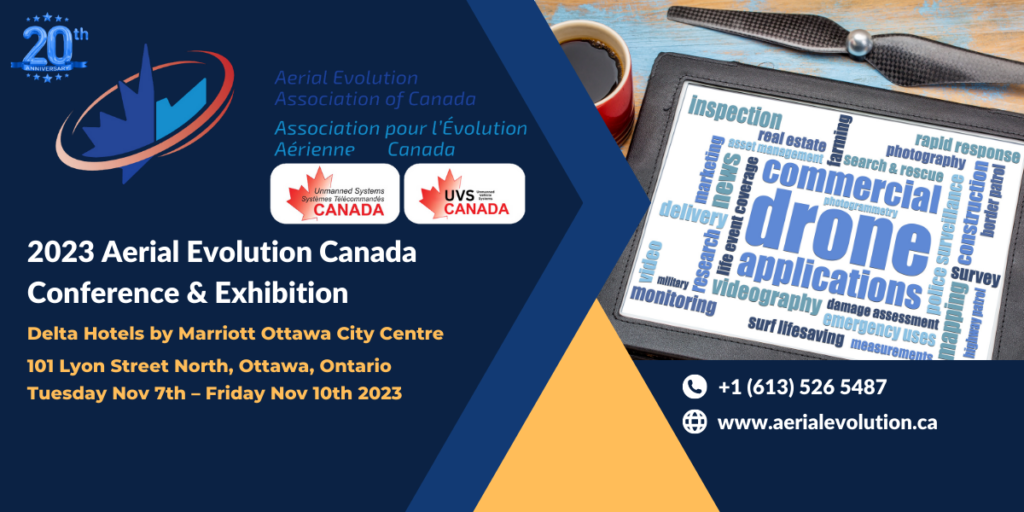 A celebration of 20 years of Canada's premier drone association (Aerial Evolution Association of Canada formerly Unmanned Systems Canada, formerly UVS Canada)
Aerial Evolution Canada Conference & Exhibition 2023 is Canada's only conference addressing all aspects of the Canadian Remotely Piloted Aircraft Systems (RPAS) systems sector. Learn about Transport Canada's current rules and the shift to the future of BVLOS operations in Canada. Extensive B2B and B2G networking opportunities in vertical markets will introduce you to new customers and business partners.
Themes for this year include:
Regulations new and old: How have the regulations evolved since the early 2000's, where are they now and where are they going? Since the conference last year, what are the challenges the industry is still facing in and around BVLOS, DAA, AAM, Autonomy, etc.?
ESG: How drones are driving forward the reduction of GHG's and having a positive effect on the environment (GHG, food scarcity, etc.)
Women in Drones: New stream for 2023! Celebrating and showcasing innovation and thought leadership in the RPAS sector in Canada.
Indigenous Aerial Innovations: New stream for 2023! How Indigenous communities are benefitting from the use drones, how are air space sovereignty and indigenous rights being considered?
Safety and Security: How cyber security is impacting the use of drones and risks around data collection, processing, storage and sharing.
Military & Defense: In light of current world events, the need for drone advancements in the military is becoming more evident, how is Canada and the rest of the world answering this call? What advancements in C-UAS, Drone technology and commercial tech moving into the military space are we seeing?
Aerial Evolution Canada's Annual Conference & Exhibition is scheduled for November 07 – 10, 2023 at the Delta Ottawa City Centre.
Discover some of the fastest-growing RPAS companies in Canada in our exhibition hall to learn more about their research, new products, and services. Participating as an exhibitor, sponsor, speaker, and delegate can increase your corporate visibility, connect you to buyers and suppliers, expand your network, find new collaborators and/or launch new technologies and products.
Join us in Ottawa to give your organization the opportunity to contribute directly to building a stronger, more competitive drone industry sector that provides social, economic & environmental benefits for all Canadians.
View the Conference & Exhibition agenda here.
Hotel accommodations and travel discounts are also available here.
For more information on sponsorship and exhibiting opportunities please email [email protected] or speak with Declan directly at 1 (613) 526 5487.